Co-Parenting Mediation Mediators
The Co-Parenting Mediation Program maintains a small closed roster ofexpert mediators in the field of divorce, child custody and parent-time. Participation is by invitation only. Mediators are only added to the roster when a vacancy occurs, and are chosen based upon experience.
Below is a complete listing of the mediators working with our program. If you are scheduled to participate in mediation through our program, we ask that you please not contact your mediator ahead of time. Please direct all calls to the Co-Parenting Mediation Program.
If you are not scheduled to mediate through our program but would like to mediate privately with one of our co-parenting roster mediators listed below, their contact information is listed alphabetically at www.utcourts.gov/mediation/roster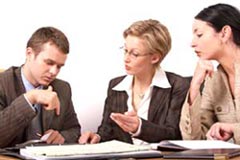 Jenaveve Arnoldous

Jenaveve Arnoldous is a Harvard Negotiation Institute trained, Utah Court-Qualified Master and Domestic Mediator. Specializing in domestic, divorce, and parenting mediation since 2014, Jenaveve also has experience in business, family, landlord/tenant, and probate mediations and has trained in strategies for communication and negotiation in high conflict situations. She is a graduate of J. Reuben Clark Law School and is listed on the Utah and California State Bars. Jenaveve received her domestic mediation training through Utah Dispute Resolution and is a graduate if UDR's Domestic Mediation Practicum Program.
Vivia Baldwin
Vivia Baldwin is a certified master mediator with extensive workplace mediation experience. A graduate of the University of Utah, Magna cum laude, she has been mediating in Utah since 1994. Currently Ms. Baldwin is on the mediation roster of the United States Postal Service REDRESS, the Utah State Anti-Discrimination and Labor Division, the AOC Restorative Justice Program and the AOC Co-Parent Program. Ms. Baldwin's expertise is in facilitative and transformative mediation. She is available as a mentor/coach for participants in a mediation conference.
Karrie A. Ketchum
Karrie has 9 years experience in the legal field as a paralegal in several areas of law including bankruptcy, real estate, estate planning and trusts. She has experience in many aspects of business as a commercial construction business owner. Karrie has been involved in the public and charter school districts as a volunteer for several years. With years of combined experience in all of the above, Karrie brings understanding and knowledge to the mediation process. With her ability to empathize and desire to help others, her ultimate goal is bringing peace to any type of conflict. Karrie received training through Utah Dispute Resolution and continues to volunteer for them.
Nancy McGahey
Nancy mediates disputes with a wide range of issues, including family, divorce, co-parenting, relationship, workplace, victim-offender, small claims, and civil matters. Currently, she mediates with the Co-Parenting Mediation Program in Third District Court and the Family Mediation Program with Utah Dispute Resolution, where she serves as Executive Director. She also maintains a private practice. Nancy's professional background includes thirty years combined experience in education, training, instructional design, and human services. She holds Master's degrees in Interpersonal Communication and Learning Technologies from the University of New Mexico, and a certificate in Alternative Dispute Resolution from the University of Utah. In addition, she has completed specialized mediation training on family, divorce, and victim/offender issues.
Jill Sheinberg
Jill Sheinberg is an attorney (admitted in New York) who specializes in mediation in Utah. She received her basic mediation training in New York City where she worked for five years as a community mediator to resolve disputes between family members, neighbors, employees, and landlord/tenants. She has completed the Utah Court-Annexed ADR Program and a Business Mediation course at the Cape Cod Institute. Ms. Sheinberg has trained teachers, law students, community-based organization staff and community residents in conflict resolution and communication skills. Ms. Sheinberg serves as a volunteer Mediator with the Utah Juvenile Court Mediation Program. She is a member of the Academy of Family Mediators, the Society for Professionals in Dispute Resolution and the National Association for Community Mediation.